Cool down with frozen treats Downtown!
Halifax's sweltering summer is no joke! And there's no better way to cool off than with a frozen treat.
Milkshakes, popsicles, ice cream – you name it! Downtown Halifax has you covered.
Check out our list of where you can find ice cream and other frozen treats in Downtown Halifax.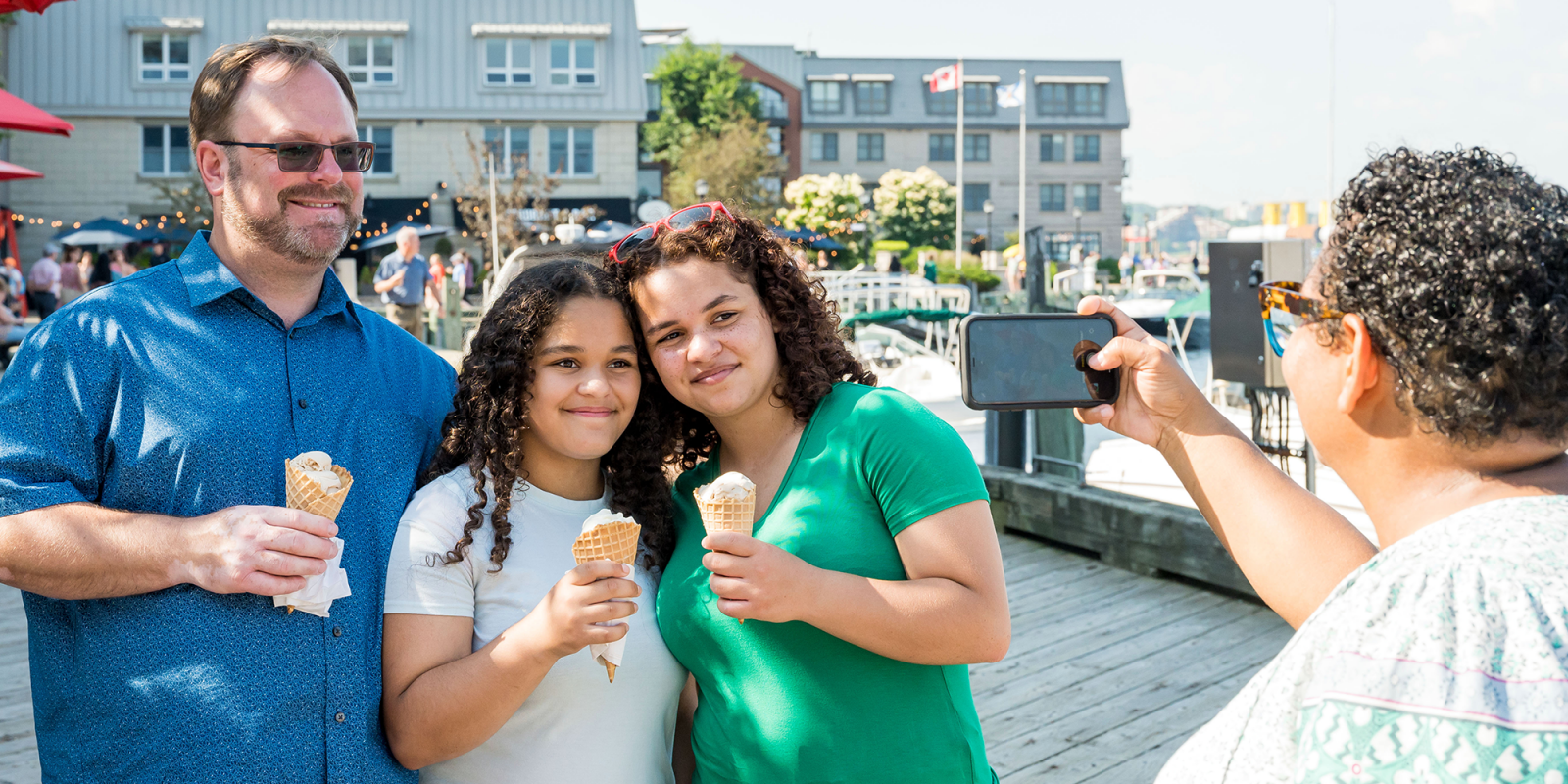 Argyle Station Café
1580 Argyle Street
Argyle Station Café is serving scoops of Scotsburn ice cream, as well as their own in-house creations! You can choose between plain waffle cone, chocolate dipped waffle cone, or in a cup. P.S. they also have frozen slushies! 
BeaverTails
Salt Yard, Halifax Waterfront, 1549 Lower Water Street
Grab a scoop or two of ice cream at BeaverTails – a great hot-cold combo when paired with the iconic fried dessert!
Black Bear Ice Cream
Salt Yard, Halifax Waterfront, 1751 Lower Water Street
Handmade frozen treats at Black Bear include vanilla soft serve, sundaes, and of course, scoops of ice cream. Pro tip: get their ice cream in a milkshake or sandwiched between two cookies!
Café Taiyaki 52
2009 Brunswick Street
Taiyaki, a Japanese dessert waffle resembling a fish, is Café Taiyaki's signature dish! You can get the taiyaki with your ice cream bowl (as shown below) or their Jaw Dropper – a big taiyaki filled with soft serve ice cream!
COWS Ice Cream
1751 Lower Water Street |
 

Kiosk at Salt Yard, Halifax Waterfront

Grab a scoop (Or two. Or three!) of "Canada's Best Ice Cream" according to Reader's Digest! Their new Cable Wharf location at 1751 Lower Water Street is open year-round, but don't forget to check out their Salt Yard kiosk as well.

 
Flynn's Dairy Bar
1365 Hollis Street
Over-the-top milkshakes? Check. Delectable sundaes? Check. Let your inner child out and grab one of Flynn's indulgent frozen treats like the one you saw in our webpage header!
L-R: Argyle Station Cafe, Black Bear Ice Cream, Cafe Taiyaki 52 , COWS Ice Cream
McDonald's
Scotia Square, 5201 Duke Street
Beat the heat with McD classics: hot fudge and hot caramel sundaes, vanilla cone, and McFlurry's.
Pane e Circo
Bishop's Landing, 1475 Lower Water Street
Gelato and sorbetto anyone? Find Pane e Circo's cart at the Halifax waterfront serving up fresh-from-scratch Italian frozen delights.
Rousseau Chocolatier
5151 South Street
Soft serve from Rousseau? Yes please! Flavours come in vanilla bean and a rotating weekly vegan sorbet. Don't forget to add delectable toppings and sauces like meringue crumbles, candied hazelnuts cru.ch, and salted butter caramel sauce.
Sugah!
Bishop's Landing, 1479 Lower Water Street
Get your scoop or cup of ice cream at this sweet spot along the Halifax waterfront! P.S. they have pup cups for your little fur babies, too.
The Fog Company
Queen's Marque, 1709 Lower Water Street
Adorn your soft serve or churned ice cream with The Fog Company's whimsical toppings like their signature spun-to-order "fog" aka cotton candy!
Underground Snax
1549 Barrington Street
The seasonal dairy bar at Underground Snax is serving up frosty fan faves like milkshakes, ice cream scoops, and floats. Looking for dairy free options? They got you, too!
Verano Food Purveyors
1871 Hollis Street
We're here for the dairy-free, vegan, and (most importantly) deliciously refreshing Hali Pops popsicles served at Verano! If you're not dairy-free or vegan, try their chocolate covered strawberry popsicles (as seen below).
L-R: Pane e Circo, Rousseau Chocolatier, The Fog Company, Verano Food Purveyors