The lights are twinkling, the decorations are sparkling, and the festive atmosphere is dailed all the way up ... ah yes – it's officially the holiday season in Downtown Halifax!
Looking for unique, local gifts? Festive feasts and yummy eats? Bright and cheery lights? Holiday shows and live music events? You can find all that and more in Downtown Halifax!
Here are a few of the 'can't miss' Holiday happenings in Downtown Halifax this season:
SALTWIRE HOLIDAY PARADE OF LIGHTS - 
NEW DATE
The SaltWire Holiday Parade of Lights is now taking place on Saturday, November 25, but with a new route.
The Parade will start at 6 pm at the Cogswell Street roundabout (adjacent to the Emera Oval) and make its way to Spring Garden Road before it turns onto Barrington Street where it will finish at George Street. For more information and to see the full route, click here. 
DHBC Holiday Parade Activation

DHBC will be activating the DHBC Welcome Centre for the Parade with festive music from the East Coast Carollers and yummy cookies on November 25 from 5:30 - 7 pm. Stop by for a special treat and to pick up a pair of our special holiday glasses!
Photo credit: Michelle Doucette Photograph, 2022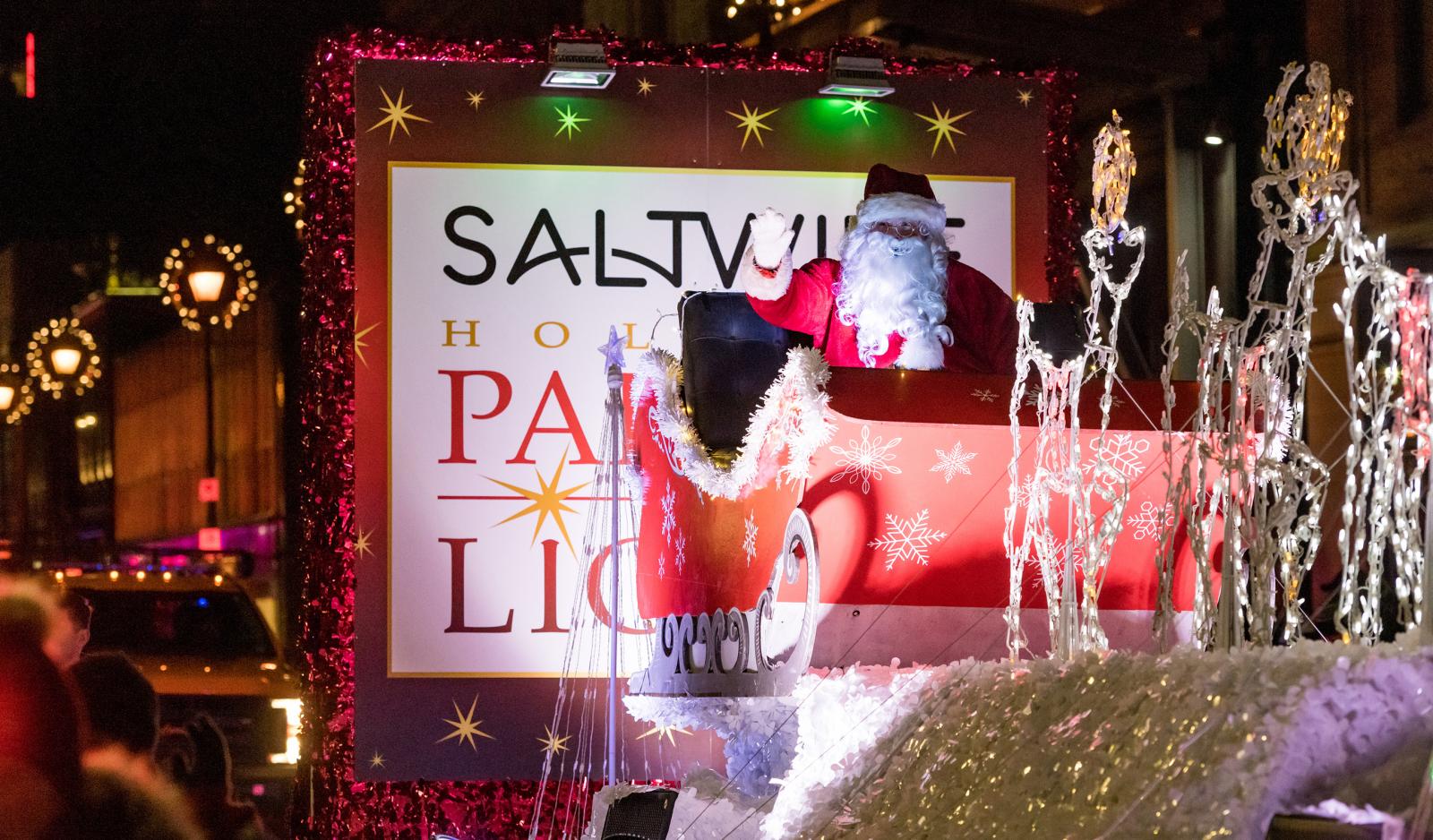 HALIFAX HOLIDAY CELEBRATION
The Halifax Christmas Tree Lighting event will look a little different this year. HRM's Halifax Holiday Celebration, and it will take place at Peace and Friendship Park on Hollis Street (across from the Westin Hotel) on November 25 from 4:30-5:30 p.m.
Entertainment will include PAW Patrol, Dorothy & Wags from the Wiggles show, the Donair Supply band, and singers Rebecca Guilderson and Jupiter Reign. 
The Tree will remain at Grand Parade and will be lit at the end of the Saltwire Holiday Parade of Lights, presented by Eastlink. 
Photo credit: Michelle Doucette Photography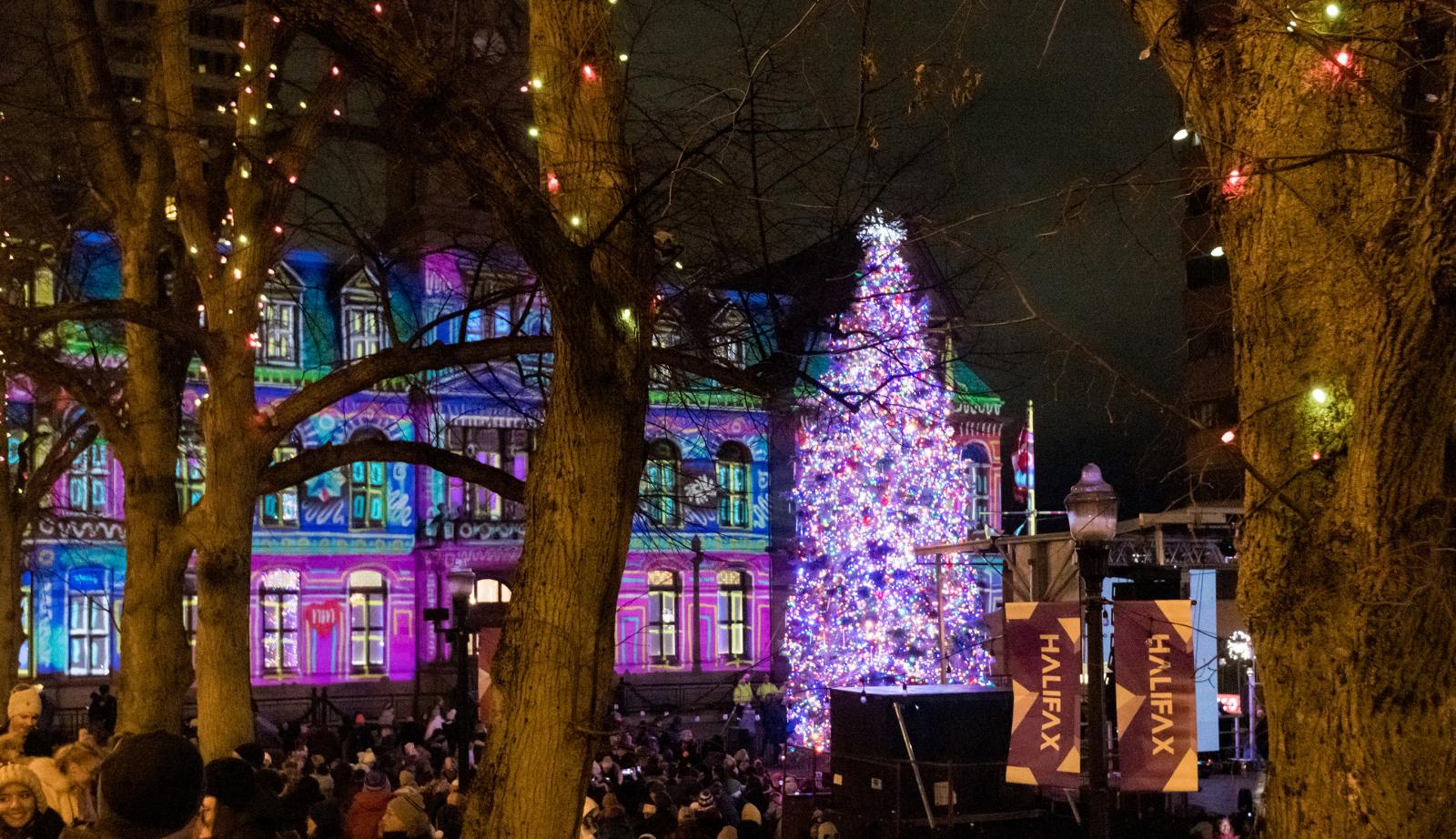 DELIGHTFUL DOWNTOWN
DELIGHTFUL DOWNTOWN is a series of vivid light shows and installations around Downtown Halifax. Check out the new holiday-themed light projection show at Grafton Park running from November 18 to December 26, and make sure to visit the 26-foot-tall tree in Peace and Friendship Park, the DELIGHTFUL Gift Box on the Halifax Waterfront, and all the trees wrapped with twinkly lights across Downtown! Learn more about DELIGHTFUL DOWNTOWN here.
Photo credit: Stoo Metz Photography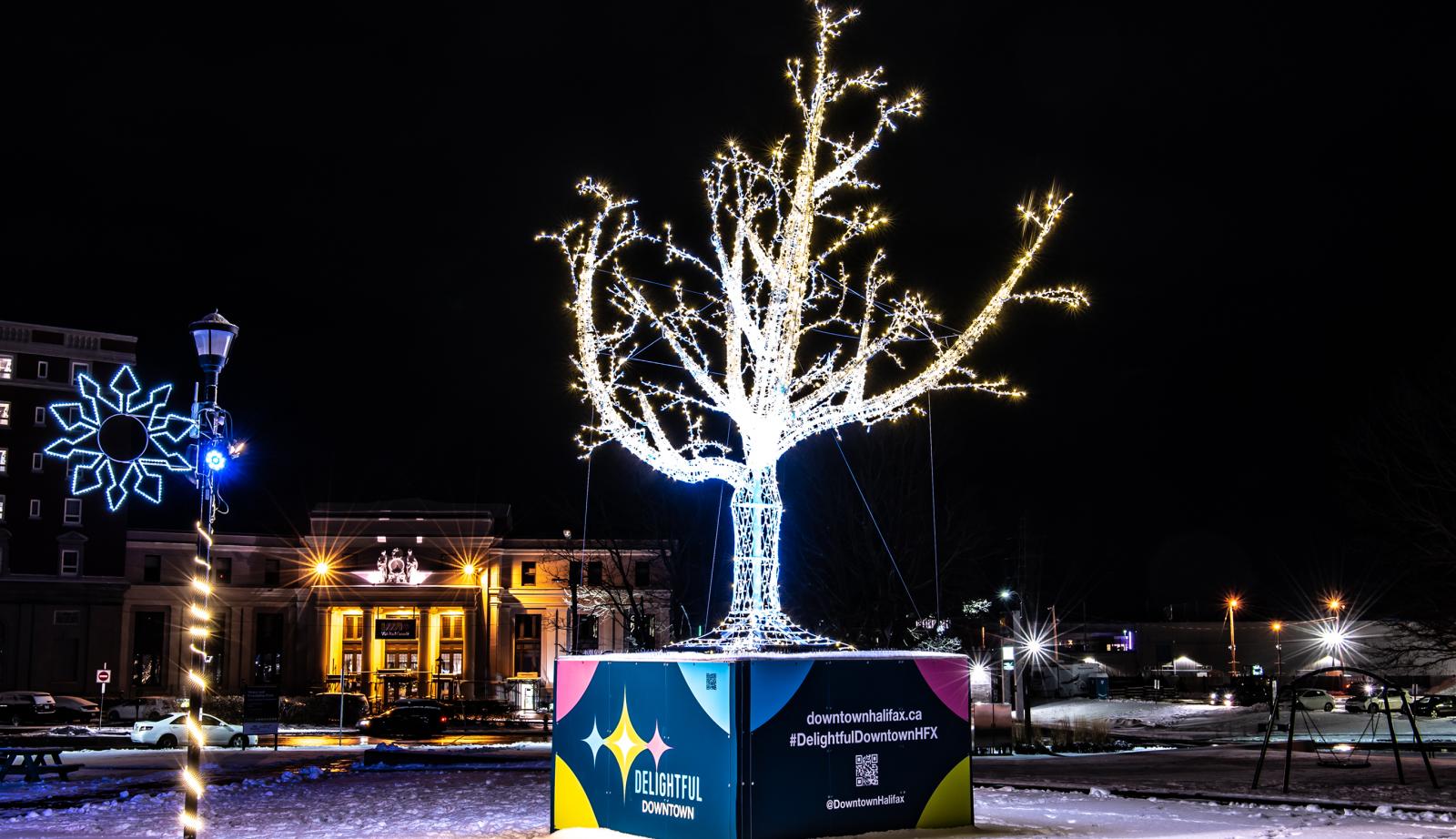 DOWNTOWN HALIFAX HOLIDAY GIFT GUIDE
The 2023 Downtown Halifax Holiday Gift Guide features hundreds of gift ideas from local businesses in the Downtown Halifax and Spring Garden areas. View the online version of the Guide here, or pick up a copy at a participating business or at DHBC's Welcome Centre at 1546 Barrington Street. 
Online Gift Guide will be live the week of November 13. 
EVERGREEN FESTIVAL
Build Nova Scotia's and Discover Halifax's 4th annual Evergreen Festival, a four-week-long, winter celebration, is taking place along the Halifax Waterfront from November 24 to December 17.

Don't miss Evergreen Bright (lights, lights, and more lights!), Evergreen Market (open-air local shopping), Evergreen Stage (free merry music at The BG), and the brand new 'Spruce's Evergreen Cocoa Trail' (special hot chocolate).
Stay up to date by following @evergreenfestns or visit evergreenfestns.com for more information.
Photo credit: Develop Nova Scotia & Discover Halifax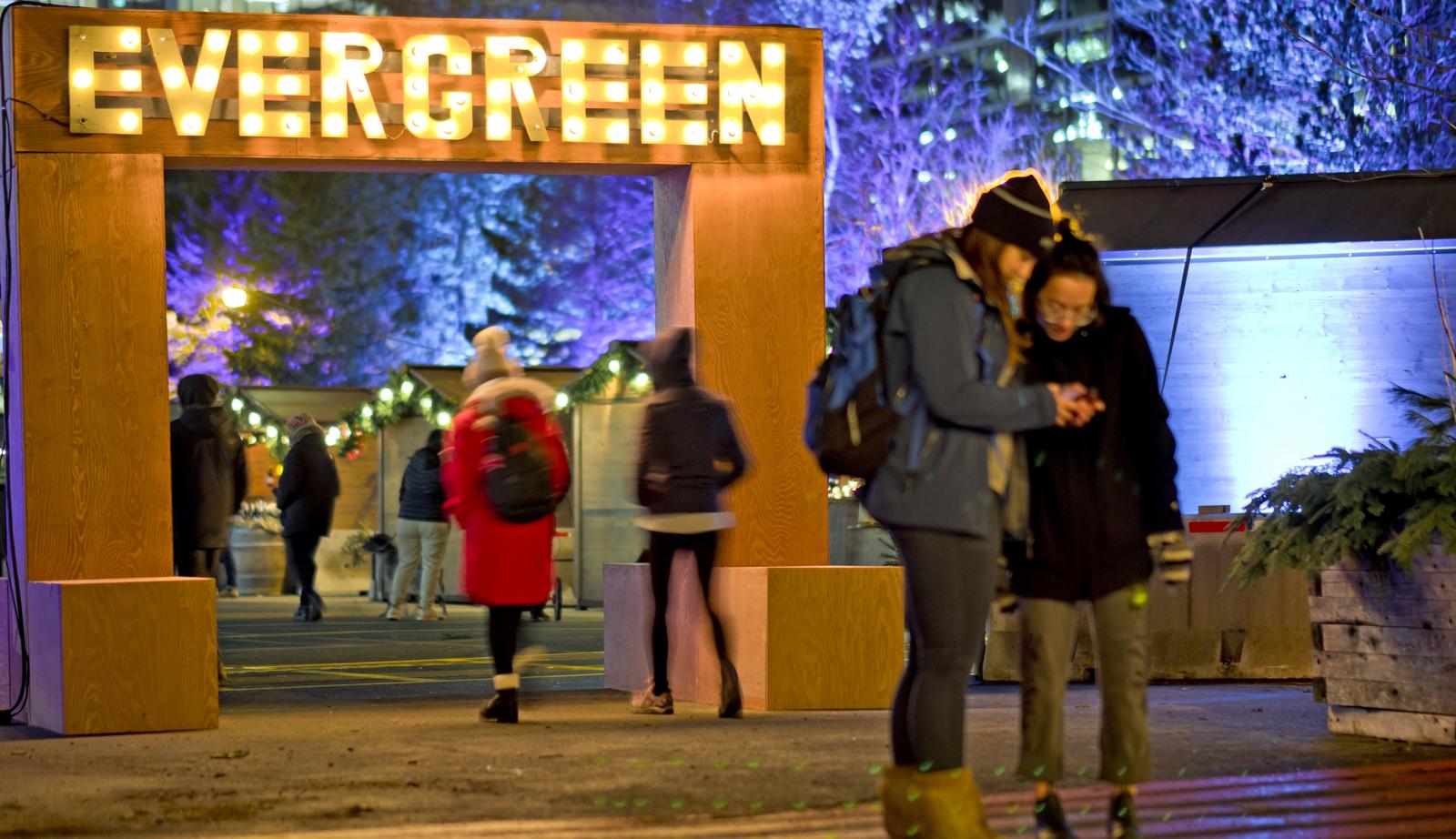 NAVIGATOR OUTREACH PROGRAM - FUNDRAISING CAMPAIGN
Downtown Halifax Business Commission (DHBC) and the Spring Garden Area Business Association (SGABA) are launching a fundraising campaign to support the Navigator Outreach Program this holiday season.
You can donate money or gift cards that will be used to address specific needs like groceries, new camping gear, warm clothes, and more.
To learn more about the program and to donate, please visit downtownhalifax.ca/navigator.  
Photo credit: Michelle Doucette Photography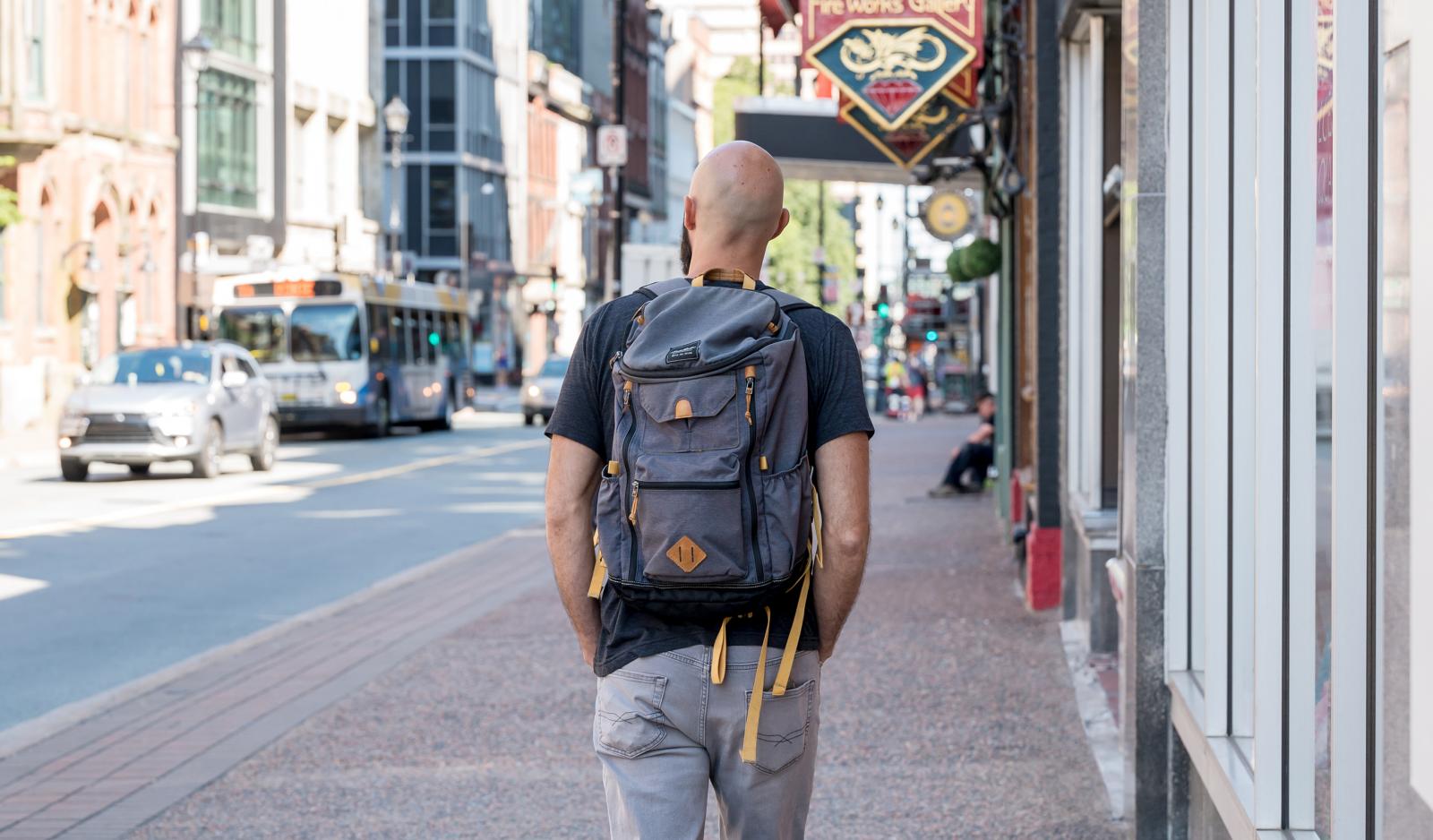 HOLIDAY EVENTS
There are so many more holiday-themed events happening in Downtown Halifax that you won't want to miss out on. Stay up to date by visiting our online events calendar here: downtownhalifax.ca/events.
Photo credit: Parks Canada | 

Photo caption: Halifax Citadel National Historic Site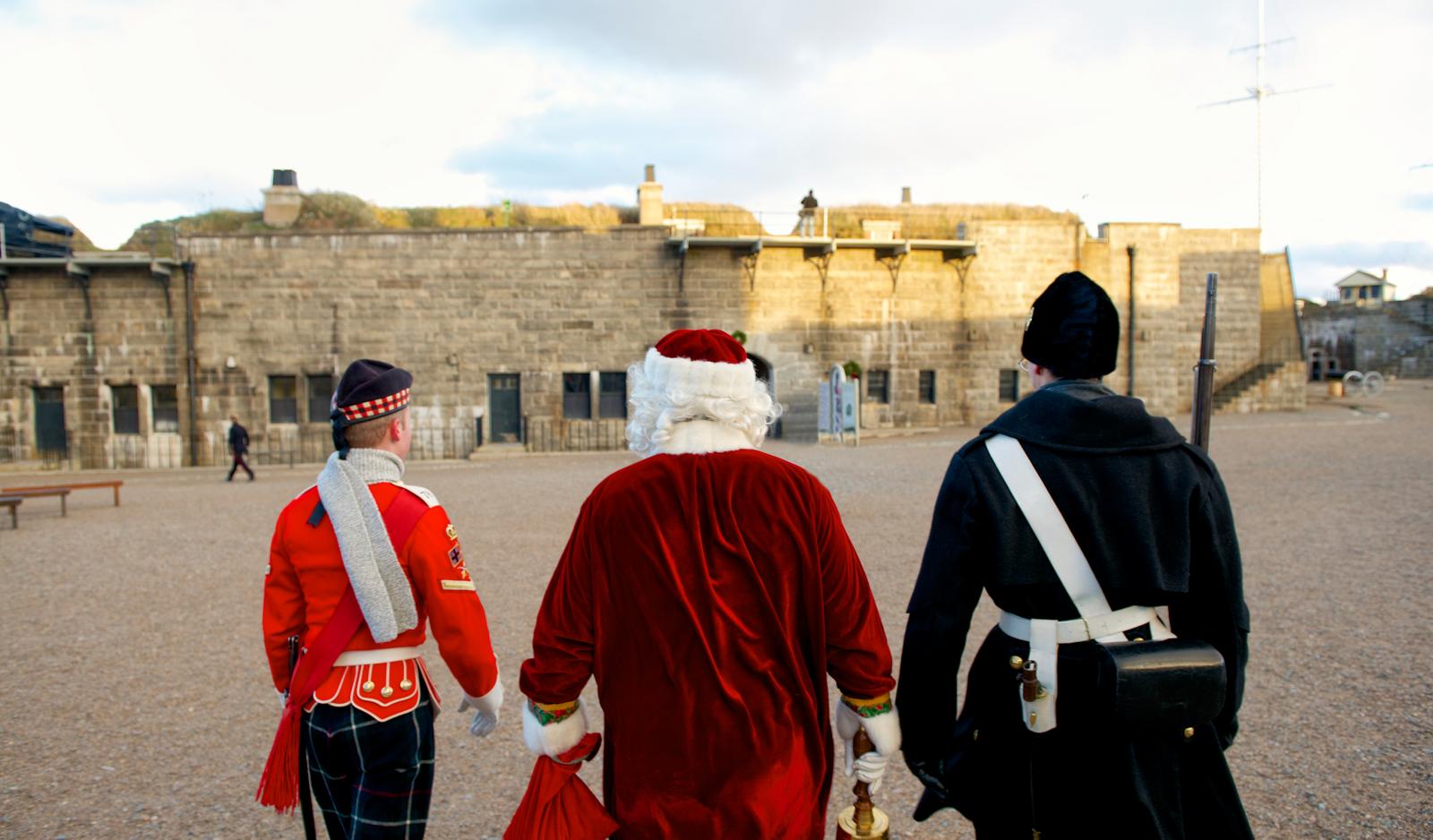 PARKING FOR THE HOLIDAYS
Don't let parking stop you from coming Downtown this holiday season! Make your parking plan before your Downtown adventure here.
DHBC is offering FREE on-street parking on Fridays, between 4:00 – 6:00 pm, from November 24 to December 222! (Note that on-street parking is always free after 6 pm and on weekends.)

And some parking lots and parkades around the Spring Garden area will be offering FREE parking during Shopping Under the Stars (SUTS) on December 1. More information coming soon.
HALIFAX CHRISTMAS TREE & CITY HALL HOLIDAY LIGHT PROJECTION
Information regarding the Halifax Christmas Tree and City Hall Holiday Light Projection is still forthcoming. In the meantime, please keep up to date by visiting halifax.ca/events. 
Photo credit: Michelle Doucette Photography