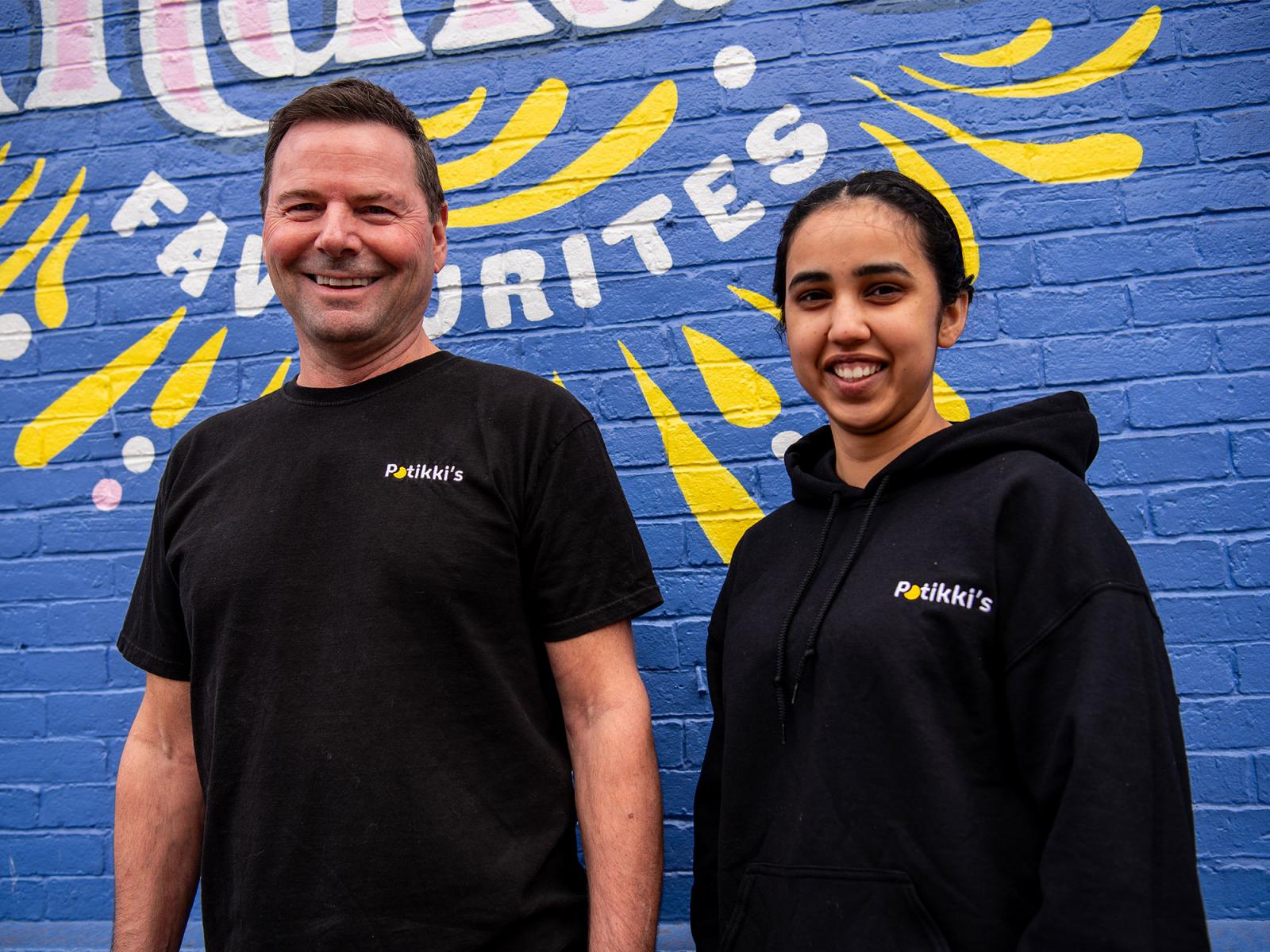 Meet Wade Bruce and Navpreet Kaur, Owner and Manager of Potikkis, Pizza Corner's newest addition!
Wade grew up on a potato farm in PEI and became an entrepreneur at a young age. After working in the potato distribution industry for years, he sold his business and opened Halifax's first Smokes Poutinerie franchise in 2013. Since then, he has opened three additional poutineries and founded Potikkis in 2023.
Navpreet, who grew up in India, was excited to hear about the new Indo-Canadian restaurant opening when she moved to Halifax in 2022. Her management experience working for McCain Canada and passion for quality food made her the perfect fit.
The name 'Potikki's" comes in part from the popular Indian street food, aloo (potato) tikki (cutlets), and their menu offers a Canadian Twist on India's favorites. From loaded fries and burgers to flatbreads, bowls, and desserts with vegan, gluten-free, dairy-free and halal options available.
Navpreet's favourite menu items are the chana masala and cheese curd curry, both of which will be featured at this year's Evergreen Festival alongside a fan favourite dessert, apple fries! Tossed in seasoned sugar and served with warm caramel sauce, this dish screams comfort food – like a warm hug on a cold day.
Located at 5246 Blowers Street, Potikkis is open for lunch until late every day, and extra late (until 4:00am) on Fridays and Saturdays. Get your late-night snack on or take advantage of their catering and takeout options. If the line-ups out the door are any indication, we expect to see franchise opportunities as early as 2024. "This will be a great way for other entrepreneurs to bring this delicious food to the masses" says Wade.
Reach out to Wade Bruce at wade@potikkis.com for opportunities, say hello to Navpreet in-store, and join us in welcoming Potikkis to Downtown Halifax!