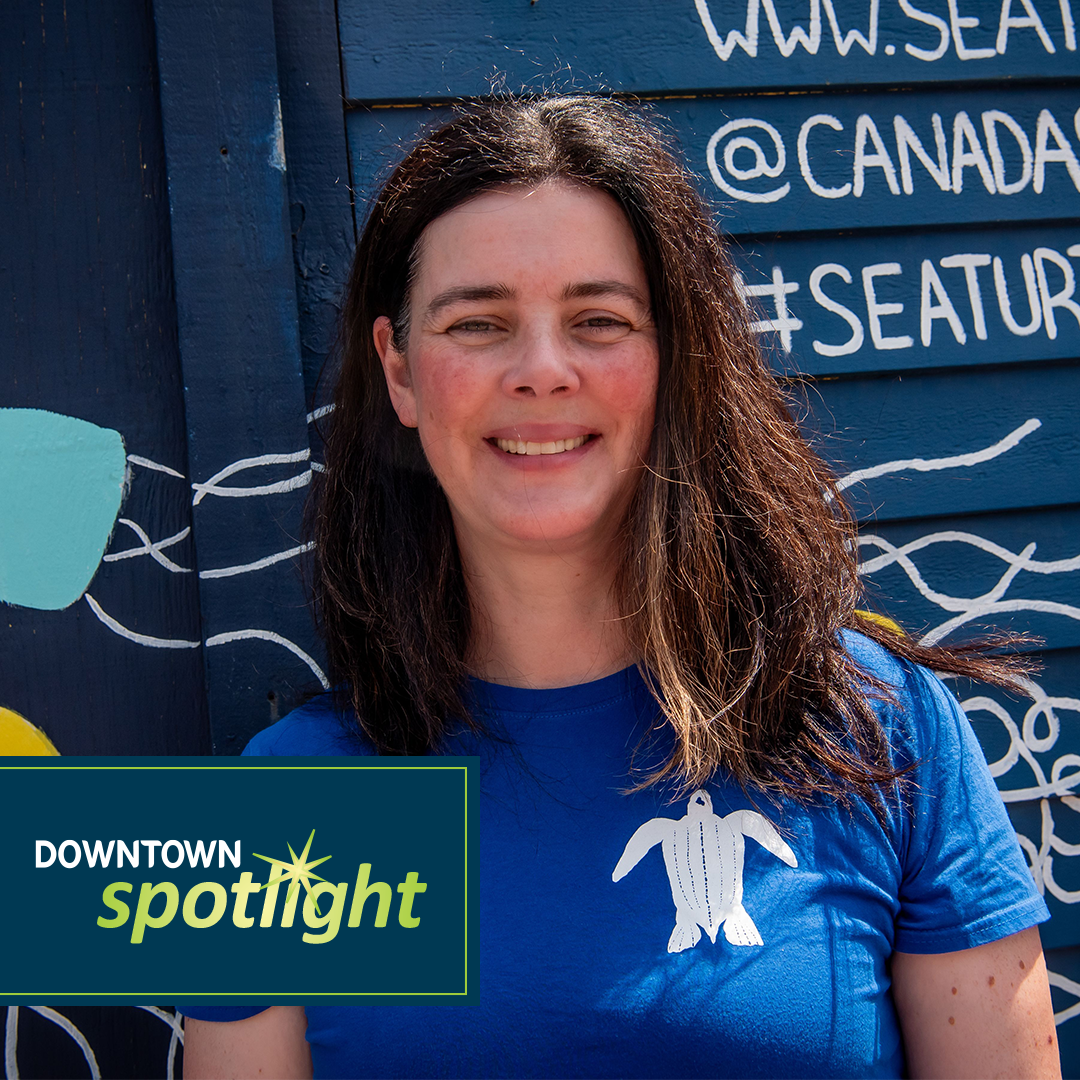 Meet Kathleen Martin, author, freelancer, mother and Executive Director of the Canadian Sea Turtle Network.
Kathleen moved from Toronto to Halifax after completing a BA and master's degree in English. She applied her passion for writing to a career in marketing and communications and has published six non-fiction books for children — all of which focus on animals, from turtles and jellyfish, to beavers and manatees.
Science and marine biology were not inherent interests of Kathleen's growing up. While kids were catching salamanders in the yard, she was busy reading novels. However, when her now husband and marine biologist, Mike James, began studying leatherback sea turtles in Canada in 1998, she developed a new appreciation for the animal, as well as the cutting-edge science.
Together, they co-founded the Canadian Sea Turtle Network in 1998 and the seasonal waterfront centre, located in the Salter lot, opened in 2017. "It is the smallest museum for the world's biggest turtle, where 100% of the proceeds directly support endangered sea turtle research," says Kathleen.
In collaboration with local fishermen, biologists, the government, staff, and community members, the Canadian Sea Turtle Network also coordinates field trips to Trinidad, creates volunteer opportunities for kids, tracks turtles in real time, facilitates school visits, harbour clean-ups, and more. Visit the centre between 9:45am – 5:45pm until the end of October to learn more about the important work they are doing or visit their website at www.seaturtle.ca!
FUN FACT: Each leatherback sea turtle consumes approximately 1000 pounds of jellyfish per day while foraging in Canadian waters during the summer months.
Considering this fun fact, the Canadian Sea Turtle Network is hosting its first ever Jellyfish Fashion Show this Saturday, July 29th at Queen's Marque from 12pm – 3pm. Check out their events page for details or contact april@seaturtle.ca. Bring your most creative jellyfish costume, walk your design on runway, and support their ongoing research and conservation efforts!