Conferences & Conventions: Delegates Welcome Program
With the return of conferences and conventions to the Halifax Convention Centre, Events East and Downtown Halifax Business Commission (DHBC) are reviving the Delegates Welcome Program. This program, launched in partnership with Events East, Discover Halifax, and the Halifax Standfield International Airport in 2018, was created to help communicate upcoming conferences, conventions, and events taking place at the Halifax Convention Centre to Downtown businesses, so together we can give conference delegates and event participants a consistent and memorable welcome experience. This program also serves to inform businesses of large scale events coming to the Downtown area so they can prepare for the influx of potential customers. 
To help the Downtown business community give a warm welcome to conference and conventions delegates, promotional materials have been created for some of the larger scale events taking place at the Convention Centre for businesses to use including storefront posters and social media graphics. Businesses are encouraged to print and hang the posters in their establishments and to post welcome messages on their social sites were possible. During the summer months (until late August), the Downtown Halifax Crew will be delivering posters for the large scale events to ground floor businesses. 
See the upcoming events that posters and social graphics have been designed for below. 
See all the events happening at the Halifax Convention Centre here.
For more information about the Delegates Welcome Program, contact Allana MacDonald Mills, Director of Marketing for DHBC, at allana@downtownhalifax.ca. 
UPCOMING CONFERENCES & EVENTS:
There are currently no large-scale conferences scheduled for the months of November and December at the Halifax Convention Centre.  

SHOW YOUR BADGE
 
The Show Your Badge program has been relaunched by Discover Halifax. The program is a delegate appreciation program where participating businesses provide special offers to visiting conference delegates. Delegates simply 'show their badge' to participating local businesses to receive their offer. For more information, click here or email Holly Chessman.
 
Image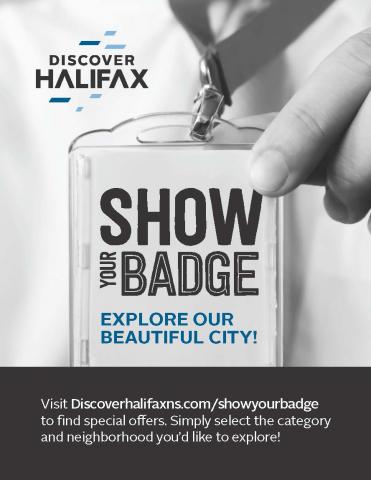 Wondering what's happening in Downtown Halifax? Visit our online events calendar HERE.