Earlier this month, DHBC was one of many stakeholders invited on a guided tour of the Cogswell District Redevelopment Project. As we were led through the pedways by Cogswell District Project Manager, Elora Wilkinson, master plans and road closure diagrams were passed around as we quickly discussed work done to-date before jumping into the next year's plan.
Since this undertaking is the "biggest city-building project in Halifax's history," it seems only fair to dedicate some time explaining what folks can expect (between now and 2025) with pictures and terminology that everyone can understand.
Side note: HRM confirms that traffic modelling has been completed to assure the road network can accommodate these upcoming temporary changes.
October 18, 2023 - June 2024
Building a NEW Cogswell Street
Cogswell Street, from Brunswick to Barrington Streets, will be closed.
During this time, folks are asked to use detours via Brunswick, Duke, or Nora Bernard (formerly Cornwallis) Streets and Halifax Transit routes will be re-routed (visit HRM's website for more on that). 
Red section will be closed October 18, 2023 – June 2024.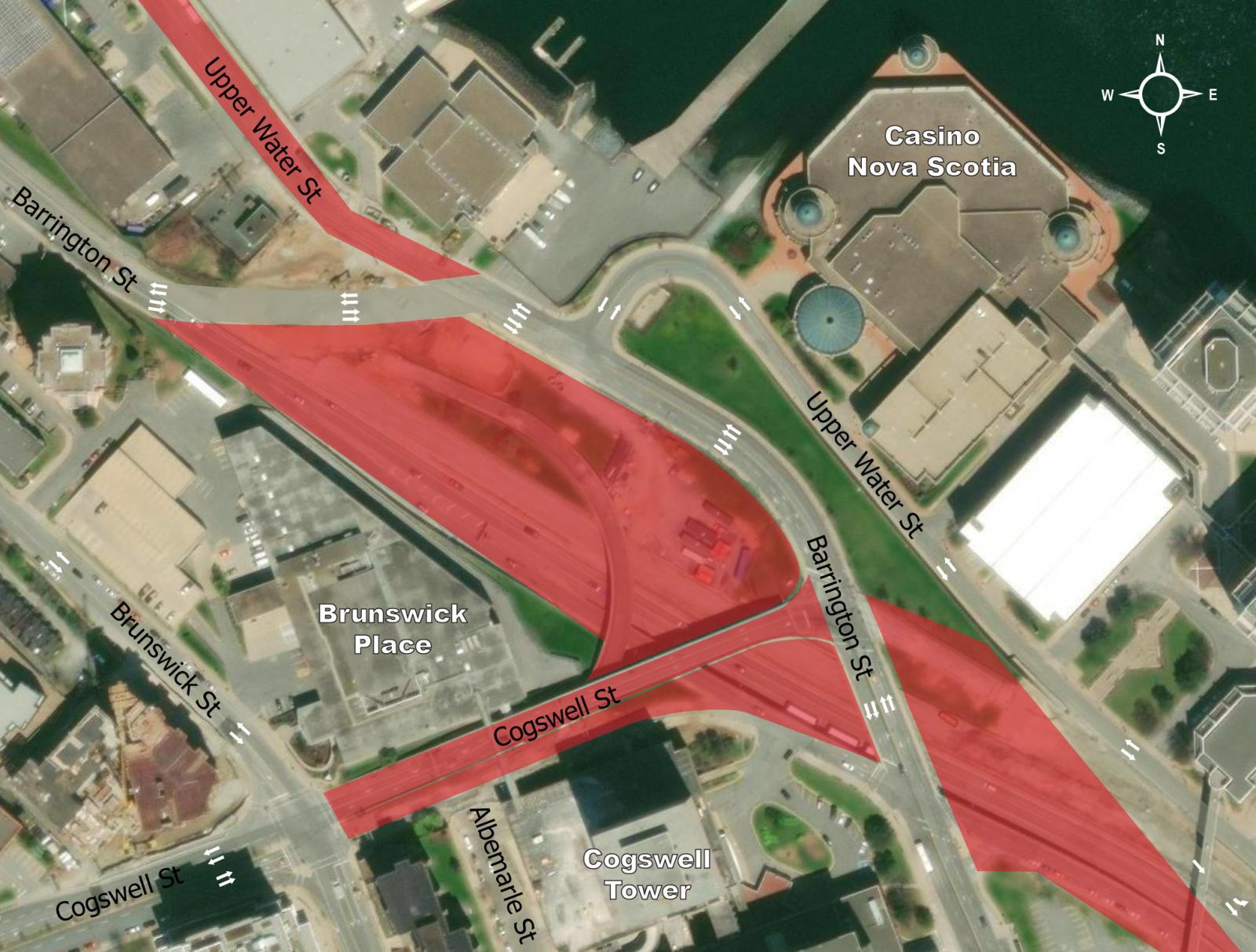 As the tour made its way outside, Elora took us into the "heart" of the Cogswell District's open space network, the highly anticipated "Granville Park."
This space will connect to Barrington and Upper Water Streets via a "new" Bells Lane and will connect to Granville Mall via a street-level plaza with stairs. It will feature a variety of flexible and programmed spaces (community gatherings, concerts, markets, etc.) and will have a splash pad and performance stage.
The picture above gives you an idea, but it's definitely not as cool as some of the renderings we've seen. Our point? This park is going to be so cool! But, we digress... 
Back to the not-so-sexy stuff (but equally cool) - the old Cogswell overpass is coming down! This first closure is allowing Dexter Construction (the team behind all of this work) to continue their mass excavation, installing underground services and the construction of what will now be the new Cogswell Street.
New Cogswell Street (blue); Cogswell overpass will come down (green)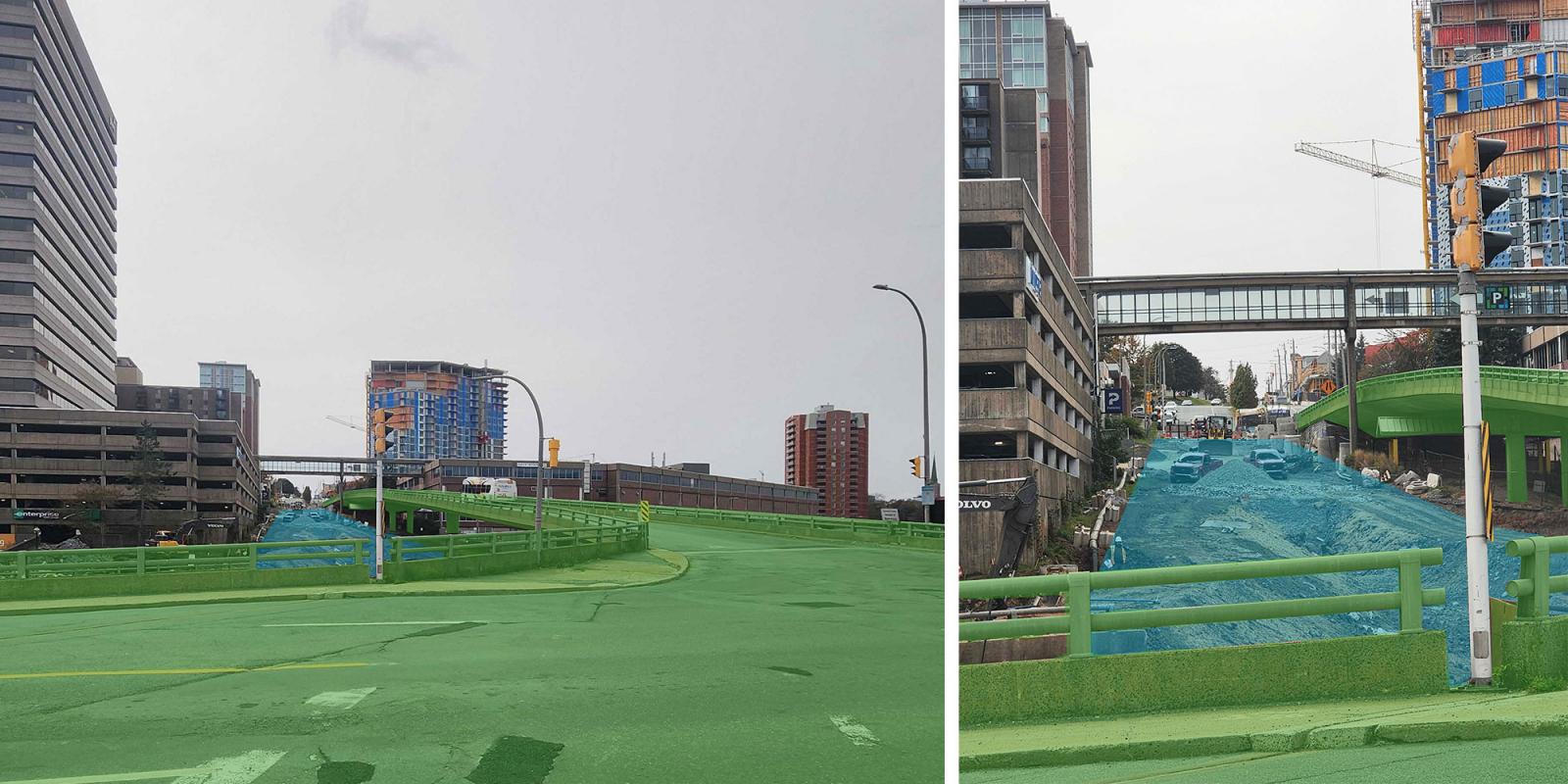 Blue arrow shows how "new" Cogswell Street will connect to Barrington and Upper Water.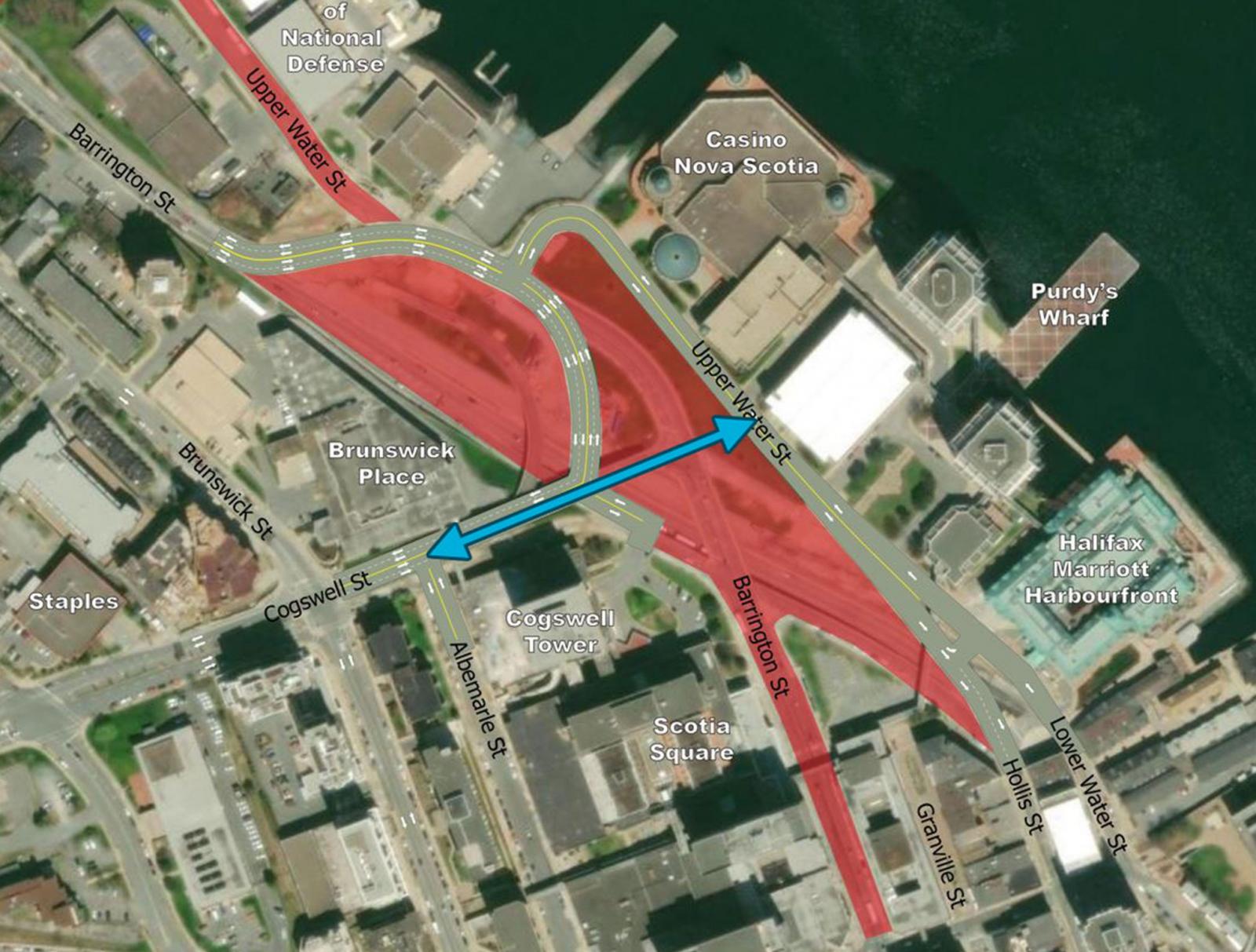 June - December 2024
Barrington Street closed & a NEW Bus Terminal
Once the new permanent Cogswell Street is up and running, the crew can move onto the biggest closure to date: Barrington Street, from the former Cogswell Street intersection to Duke Street, will be closed.
During this time, folks will be asked to use detours via Upper Water or Nora Bernard (formerly Cornwallis) Streets. The Halifax Transit Terminal on Barrington Street will be temporarily relocated. Work to be done will include installing underground services and the construction of a "new" Barrington Street and Bells Lane Transit Hub. This Hub is a pedestrian-focused space that will provide amenities for transit users and street-level retail. 
It's important to note that this bus terminal is being predicted for completion 12 months ahead of the original timeline. This is because of the tireless work being done by HRM and the crew at Dexter.
Red section will be closed June – December 2024.
Chompy the Digger
As the tour started to wind down, we couldn't help but stop and watch the dedicated team at Dexter move giant pipes around. (Let's be honest, no matter how old you are, watching "diggers" dig and cranes strategically place giant objects on tiny platforms, never gets old.)
Fun fact: One of the diggers has been named "Chompy," so if you see a children's book in the near future, titled "Chompy the Cogswell Digger," remember you heard it here first.
And according to Halifax Water, we should be very excited about these new pipes 😊 (more on this later.) 
Short-term pain for long-term gain
So, when you're stuck in traffic over the next year, this is what you need to remember: this $122.6M project will be complete in 2025, and when it is, we will be so much better for it!
We will have:
Converted over 16 acres of road infrastructure into mixed-use neighbourhoods.

High-quality dedicated cycling lanes, multi-use paths, new parks, and open spaces.

A reimagined transit hub on Barrington Street.

A significant central urban square that will transform this traffic-centric area into a livable pedestrian friendly area.

And, we're adding a few new streets while reclaiming one we didn't even know existed!