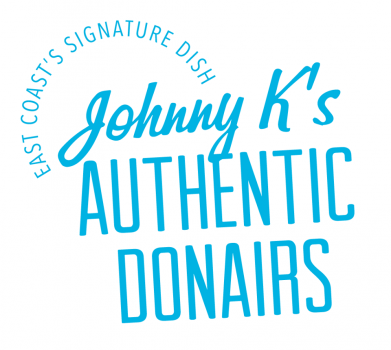 Johnny K's Authentic Donairs
Halifax's famous Donair can trace its roots back to many years ago that saw its evolution pass through different regions and cultures, thus resulting in one of the world's most delicious creations.
Our story starts sometime around 1870 in the Ottoman Empire, when the dish took its current ready-to-cut incarnation thanks to Iskender Efendi of Bursa. Instead of roasting the meat horizontally, the chef realized that by cooking the meat vertically, all the juices and fat would stay within the meat – creating an explosion of flavor.
After World War II, a mass migration of Turkish people to Germany brought with it the creation of the modern Doner Kabob. Most folks agree that the first Berliner to put kebab in grilled bread, was either Memhet Aygun or Kadir Nurman sometime in the 1950's. The sandwich consisted of lettuce, cabbage, tomato, onion, and a spicy chili sauce. The street food invention became an instant hit.
As the popularity of the Doner Kabob spread across Europe, the Greeks were keen to create their own variation. Due to economic conditions, the use of pork was alternated as the primary meat, In addition, a thick pita would be used including onion, tomato and tzatziki sauce. The world would know it as the Gyro.
By the late 1960's local restaurateurs, Peter and John Kamoulakos wanted to introduce the Doner Kebob to Haligonians, in hopes of being the first to bring the ever-popular sandwich to town. Fortunately, locals didn't take a liking to the yogurt based sauce and especially the lamb meat. Instead, of just giving up, they decided to modify the sandwich, to a spicy, beef meat, and a sweet savoury sauce, onions tomato and Lebanese-style pita. This marked the invention and beginning of the Donair!
At Johnny K's we pay homage to the co-inventor that brought to our palates this tasty and incredible treat. From this very location, Johnny K introduced and fed hungry patrons his wonderful creation. We have gone back to the origins of making a true authentic donair, in-house, using the original recipe that made the donair world famous. We source out only local ingredients, with no fillers, hormones, or MSG. Johnny would be proud!
At Johnny K's we hope that all our special guests enjoy such a legendary dish in such an iconic location.
Hours of Operation
Please check our website for hours business and holiday hours.