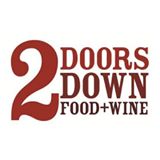 2 Doors Down
(902) 422-4224, (902) 420-9626
We cook the food we as chefs love to eat: Fun, rewarding, delicious, unpretentious recipes made from scratch with great attention to detail.

The food at 2 Doors Down follows the same culinary DNA as our sister restaurant Chives Canadian Bistro to bring a fresh, modern style of casual dishes using a local and seasonal ingredient base. Working closely with Nova Scotia and some Maritime farmers and artisan food producers, our menus change with the seasons and always attempt to showcase the best of what our great region has to offer.

We believe a burger is not just a ground beef sandwich. Poutine is not just French fries covered in cheese and gravy. A steak and mushroom pie is steeped in history. A meatball can be magical!

The simplest and most familiar dishes can be prepared in a way that commits them to memory.
 
Hours of Operation
Please check our website for hours business and holiday hours.